We are very excited to announce our professional development and program offerings for schools and other organizations. All programs are offered at a "pay what you may" rate, which means that you get to decide what prices work for you and we will find a way to make it work.
As educators, we understand budget constraints and how they make it challenging to bring quality programs to your schools. As an educational nonprofit, we want to help you reach your goals while raising money for our community work. What better way to positively impact the stakeholders in your goal while supporting and helping create the same impact for our youth?!
All of our programs are customizable and can be tailored to meet your specific needs. We will work with you to ensure that your people get exactly what they need. Take out the guesswork and get nothing but results and progress!
For Teachers: trauma-informed care, educational equity, culturally relevant teaching & learning, elevating student choice & engagement, classroom culture, pedagogical strategies, edtech, differentiation, and much more!
For Students: youth empowerment, full & partial day relationship building, creating & preserving student voice, innovation & entrepreneurship.
Whole Organization: culture & team building, creating an environment of trust & appreciation, organizational strategy & problem-solving, speaking & keynote opportunities, consulting.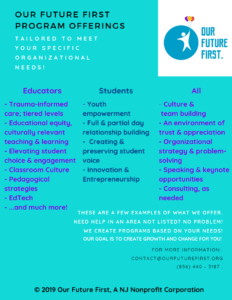 Our signature event, Promise Day, is a full-day program for staff and students that promises growth, understanding, compassion, empathy, healing, and love. We can adjust this based on your specific size needs, and your particular areas of focus. Our goal is for all participants to have a better understanding of what their peers deal experience in their lives.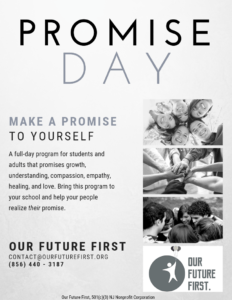 Whether it is specific professional development sessions for teachers or our signature program, Promise Day, we know that all participants will benefit and grow. Feel free to look through our lists of specialties and reach out to learn more!